The core sets of the ETD (Economic Transformer Design) series were developed for transformers in the range up to 1000 W and frequencies up to 500 kHz.
The coilformers made of plastics in compliance with UL94 VO offer a large winding section as well as the possibility of simple extraction of thick winding wires and wire ducts for machine-suited winding.
Retaining clamps can be supplied for fastening core / coilformer.
Type
Drw. no.
nominal AL-value / nH
datasheet
K2006
K2008
K2010
ER 9,5/5
2
820
860
ER 11/5
2
1200
1250
ETD 19/14/8
1
1600
1700
1700
ER 20/12
2
3800
4000
ETD 24/15/9
1
1900
2050
2050
ETD 29/16/10
1
2200
2400
2400
ETD 34/17/11
1
2500
2700
2700
ETD 39/20/13
1
2800
3000
3000
ETD 44/22/15
1
3400
3700
3700
ETD 49/25/16
1
3800
4150
4150
ETD 54/28/19
1
4700
5000
ETD 59/31/22
1
5600
6000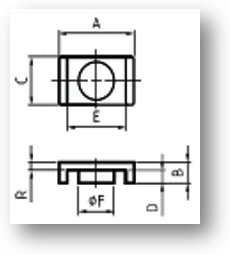 Kaschke Components GmbH • Kaschke Components GmbH • Rudolf-Winkel-Str. 6 • 37079 Göttingen • Telefon +49 551 5058 6 • Telefax +49 551 65756