E cores are used for low to medium power transformers and transducers for a frequency range from 10 to 500 kHz. These high-frequency transformers generally consist of two mechanically produced wire-wound coils for primary and secondary excitation, the E core pairs and special clamps.
Transformers can transfer a maximum power of several kW in dependence of material and design.
Common-mode chokes are another important field of application for EE and EI cores. They are mainly used in small-signal technology and contain medium perm materials K4000 and K6000.
The product range comprises:
E cores according to IEC 61246
ETD cores according to IEC 61185
EP cores according to IEC 61596
ER cores
PE cores
Type
Drw. no.
nominal AL-values / nH
datasheet
K2004
K2006
K2008
K2010
K4000
K6000
E 6,3/2
1
340
600
700
E 8/2
1
470
750
960
E 10/3
1
680
1000
1400
E 13/4
1
850
920
920
1200
E 15/4
1
950
1000
1100
E 16/5
1
1050
1150
1150
1600
E 16/6/7,4
1
2200
2300
2300
EFS 16/7/12
2
1000
1050
E 20/6
1
1350
1500
1500
E 20/11
1
2450
2600
2800
E 20/9/11
1
2500
2600
3000
E 25/7
1
1900
2050
2050
3200
E 25/11
1
2650
2700
3000
4600
EFS 25/13/13
2
2600
2800
E 30/7
1
1900
2050
2050
EFS 30/11/15
3
2625
2700
E 32/9
1
2300
2550
2550
E 36/11
1
3150
3450
3450
EFS 36/27/19,5
1
6100
6400
E 42/15
1
3500
3600
3900
E 42/20
1
5000
5100
5500
E 55/21
1
5800
6100
6700
E 65/27
1
7200
7450
7900
E 70/32
1
8600
9150
9850
E 80/20
1
4150
4400
4900
E 100/28
1
5500
5800
6300
E cores are made of K2004, K2006, K2008, K2001, K 2024 and K2500. For power materials, the following upper frequency limits can be observed depending upon excitation:
K 2004 ≤ 100 kHz
K 2006 ≤ 200 kHz
K 2008 ≤ 300 kHz
K 2010 ≤ 500 kHz
K 2001 ≤ 1.5 MHz
K 2024 ≤ 100 kHz
K 2026 ≤ 100 kHz
K 2500 ≤ 100 kHz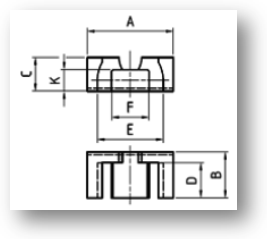 Kaschke Components GmbH • Kaschke Components GmbH • Rudolf-Winkel-Str. 6 • 37079 Göttingen • Telefon +49 551 5058 6 • Telefax +49 551 65756